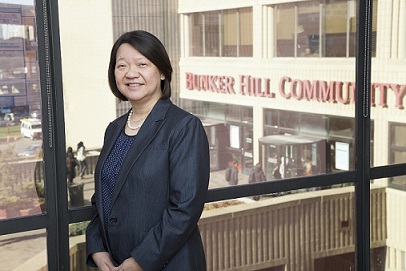 Welcome to Bunker Hill Community College (BHCC)! We are happy you've chosen us in your education journey.
As we emerge from the COVID-19 pandemic, we are here to support students on campus and online. It is our number one priority to create a safe learning environment for everyone - one that nurtures a deep sense of place and prepares you for further education and a fulfilling career.
Convenient and affordable, BHCC offers flexible course schedules and start times to help you make the most of your time and schedule. Full time or part-time, choose an option that works for you. In addition to fall and spring semester start dates, BHCC offers many opportunities for you to stay on track with your degree. These include two mini sessions each semester that allow students to complete an accelerated course in seven weeks, six-week summer sessions and an online winter session.
Academic experiences at BHCC are designed to introduce new ideas, concepts, and techniques while maximizing your current skill sets and taking them to the next level. Whether you're pursuing your first career advancement in your current career, or looking for an entirely new career, BHCC has a certificate or degree program that will help you meet your individual goals.
At BHCC, you will be challenged to think critically and to carefully evaluate information presented in various formats. Our talented and dedicated faculty and staff are passionate about your future and will help guide you through the coursework that makes up your program. In and beyond the classroom, your BHCC education will provide you with the knowledge, skillset, and real-world experience to thrive in your chosen field of study.
As a BHCC student, you'll gain free access to tutoring and academic resources through our Tutoring and Academic Support Center (TASC), Language Lab, MathSpace, and The Writing Place, where staff will support you in reaching your educational goals. And, our commitment to you goes well beyond the classroom with access to our on-campus food pantry - the DISH, and the Single Stop office that will connect you with various resources and opportunities to assist with food, housing, technology financial support, and more.
We know you can meet this challenge with hard work, persistence, and support, and we are looking forward to being with you every step of the way. Welcome to Bunker Hill Community College!
Pam Y. Eddinger, Ph.D.

President
Bunker Hill Community College